Night Run Of Urban Dog Mushing
|
Thrilling run behind mushing husky dogs on a dark night………
This brings Urban Mushing to a whole new level!
Imagine tearing along at speed through a bush track behind mushing dogs…..now imagine doing it in the dark.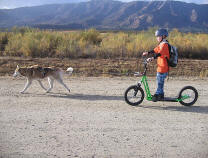 Well this is what some Urban Mushing enthusiasts do on a regular basis. These thrill seekers are not just involved in the sport casually…they need to know what they are doing. They also need to trust their dogs. This is on the verge of extreme sport!
This awesome night run was all caught on a GoPro camera.
So to do this sport you need a strong dog that likes to run, a vehicle with wheels, a harness and a scooter line.
The night run video shows the team testing out new positions for the dogs on the ganglines. The dogs are Storm, Koda and Kaizer. They started with the girl (Storm) in lead position, with the boys, Koda and Kaizer at wheel. Storm isn't so confident on her own as she usually runs with Willow. So they had to stop and switch positions, which you see in the video.  The boys ended up in the lead with Storm at wheel.
The owner said they worked so much better like that and that once Willow is back to full fitness, they'll try again with BOTH girls up front.
Check out this extreme night run of urban mushing….exhilarating and a bit scary!
There are a number of Urban Mushing groups that are setup to help beginners get into this activity and give them the right advice. One of these groups is the Urban Mushing Group.
If you are keen to give this a go, we suggest that you go to one of these groups, which hold weekend fun runs. This gives you a chance to see for yourself and try out the different equipment and gear and maybe even experience a trail run with your dog.
See here for some more information on the gear you will need.
Thanks to Kamalilyca Siberians for sharing this awesome footage    Music:  "Run Boy Run" by Woodkid (Google Play • iTunes)